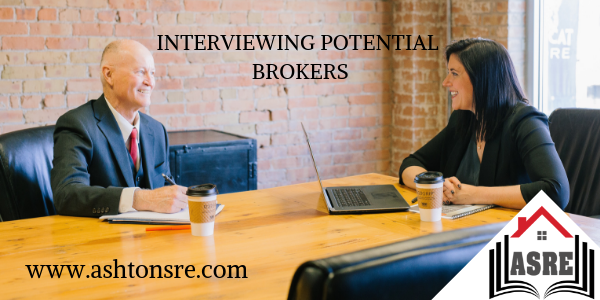 Interviewing a potential Broker is extremely important to align yourself with a brokerage that will meet you personal business expectations. There are questions that need to be asked upfront that should address what level of support that you will need either as a newly licensed Realtor or a seasoned Realtor. There are no stupid questions. The benefit of asking the questions now will avoid surprises down the road. The choice of whom to hang your license with should not be based on any one item. It should be made up of what is needed to support the entry level that you are presently at.
For newly licensed Realtors you need to ask some of the questions that I have outlined below:
How much education is provided and is it free or at what cost can I expect?
How much coaching from the Broker can I expect?
Do you have a mentorship program? Is it free or at a cost?
Is there a secondary contact at the office when the Broker is out?
Are there monthly office fees? If yes what are they? What does it include?
Does the office provide signage or do I buy my own?
If I leave what happens to my listings?
If I leave and I have closings coming up does my split remain the same or does it change?
Am I expected to do Floor Time or is it voluntary?
Are office meetings mandatory?
Is the Broker a competing Broker?
Is there a referral program? If so what is the referral fee?
Are you participating in other close Associations? Can I get a MLS only membership there?
What is the starting Commission split and how does it increase during my employment?
Does your E & O insurance program take out on a per transaction basis or a flat yearly fee?
What is your office culture like? Is it more family friendly or strictly business?
Do you have Teams in place if I decide to be a buyers agent as a start to my career?
Can I see a copy of your office policies and procedures?
If I join your brokerage I will need to see this spelled out in my agreement.
For Seasoned Agents:
All of the above plus:
What are your office policies on unlicensed assistants?
Does the office supply some level of support for high producers?
What is the cost of private offices?
What are the terms that you require for Teams?
You want to make a very educated choice when selecting a Broker to help you build a successful Real Estate Career. These questions should give you some insight as to who is the best fit for you, your business direction and the culture that you feel the most comfortable in. Selecting the wrong broker can bog your career down. The right choice can catapult your career to a fast track of success.
As Yogi Bear once said, "When you come to a fork in the road-----Take IT"